About Us
---
Organic Harvest is an all-organic brand with an extensive skincare, haircare, bodycare range and essential oils.
Our Philosophy



Our brand's philosophy is rooted in crafting products that are organic, safe and offer long-term benefits. They are made from plants that are cultivated without the involvement of hazardous chemical fertilizers, herbicides or pesticides. Instead, we rely on ingredients and raw materials that are certified by global organizations such as EcoCert, OneCert and Natrue. This implies that they have no traces of harsh chemicals, parabens, phthalates, mineral oils, PABA, petrolatum, paraffin or any animal ingredients. This is what makes our range incredibly gentle, safe and potent.
The global market has only recently warmed up to the idea of adopting an organic approach to beauty. Yet, Organic Harvest enjoys a loyal following of customers who believe in choosing only the safest and the purest of products for their beauty routine.
Our Founder


33-year-old Rahul Agarwal was an integral part of the high-flying world of finance until the entrepreneurial bug bit him. After spending 5 years working at Ernst & Young, he began his first solo endeavour of teaching students worldwide, with the help of Indian teachers. It was one of the largest companies in that space and was working with the US Federal Government under a government funded program and reaching out to more than 20,000 students in the United States. His next stop was the personal care industry. Two years of thorough research later, 'Organic Harvest', India's only home grown organic skincare brand was born. His vision is to provide the best quality personal care products and promote the concept of safe skin. After taking note of the movement towards organic beauty, Mr. Agarwal has his sights set on making 'Organic Harvest' one of the top brands in the country.
Manufacturing Process

From the procurement of raw materials to the finished result, every Organic Harvest product goes through a stringent, Earth-friendly, quality control process to ensure there is no trace of synthetic and harmful ingredients. The products are manufactured on the Himalayan plateaus and the process that takes place at our factory (certified with ISO 9001) is strictly regulated to offer uncompromising quality.
Our Vision


Integrity
One of our philosophies includes maintaining thorough transparency with our customers. From the ingredients being organic certified to the specifics of concerns that our products target and benefits that they provide, we pay special emphasis to being completely honest about our practices.
Innovation
In today's day and age, skin and hair problems are commonplace. Given the current pace of our lives, Organic Harvest strives to craft pure, fast-acting and potent products that can address these concerns. Our personalized beauty consults are one such way to help tailor-make solutions just for you!
Effort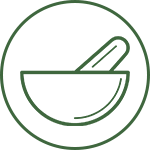 Organic ingredients abide by strict and ethical farming practices only. This means that it takes a colossal amount of time to cultivate these ingredients and ensure their purity. We take a great deal of effort in making sure that only ethically farmed ingredients are used in our products.
Rewards and Recognition